www.westwalesridingclub.co.uk OLD
Welcome to West Wales Riding Club!
New Website to be launched on the 1st April! Watch this space!
West Wales Riding Club is a BRC affiliated club in Area 21 for riders over 18 years of age. It is based in Pembrokeshire and has been in existence for some fifty years. We hold Dressage and Show Jumping competitions throughout the winter as well as running weekly training rallies all year. Our members have been successful at National Championships. In 2016 our Novice Show Jumpers won the KBIS Winter Show Jumping National Championships.
An Open Unaffiliated Dressage Competition took place at Moor Farm on Sunday 12th December 2021 after several months without any competitions. This has been followed on 23rd January 2022 by an Open Show Jumping Competition and an Open Dressage Competition on 6th February 2022.
The Show Jumping Competition Scheduled for 27th March 2022 has been cancelled.
Weekly Training Sessions These are taking place on Monday Evenings at Moor Farm, Freystop (see below for details). Possibly also on Friday Mornings after 1st October 2021.
.The BRC Horsehage & Mollichaff Rescheduled Intermediate Dressage Winter Championships 2020 were held 'virtually' recently. Judging took place during April. Katie Mathias came second in the Medium 63 Class, Lucy Jowett came eighth in the BRC HT 100Q Class. Congratulations to both for making the effort to practice, have their test filmed and submit it to BRC HQ.
On the 1st and 2nd February 2020 West Wales Riding Club hosted the Area 21 Show Jumping Championships at Moor Farm. Our 70cm Team consisted of Lucy Jowett, Karen Holloway Royles, Erika Malein and Jill Ridge, They came first out of six teams in their Class . We also entered Individuals. Gemma Butcher came first in the 90cm Class, Gemma Matchwick came first in the 1m Class and Katie Mathias came first in the 110cm Class. The sponsors of the Competition are shown on the banner next to Gemma Matchwick.
Photographs of them are shown below courtesy of KDM Photography who own the Copyright.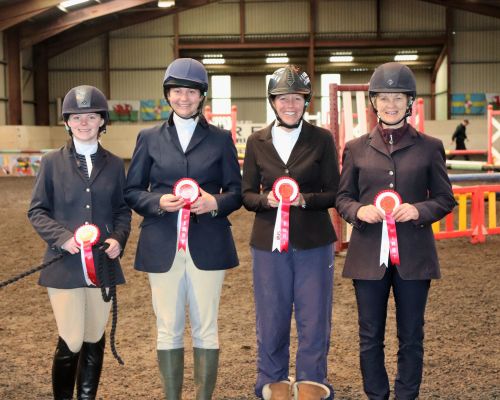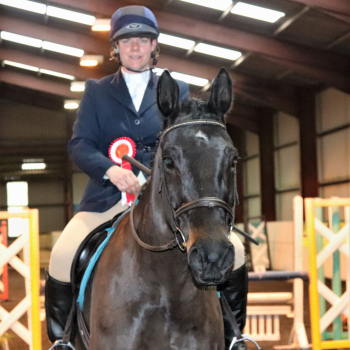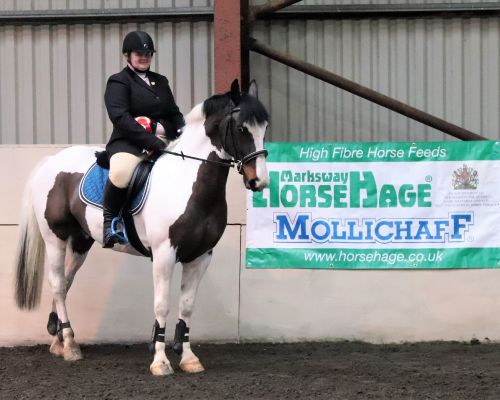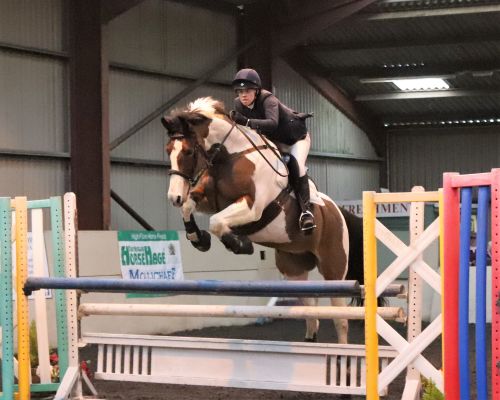 Thanks to all those who attended on the Friday night to build the course and on Saturday and Sunday to help in whatever capacity was required -from assisting the judge to poo picking. It all helped to make the Competition run smoothly and finish each day on time.
CONGRATULATIONS to Katie Mathias with LLwynfron Rachel for achieving second place at the NAF Five Star Horse Trials Championships held at Swalcliffe on the 2nd and 3rd August 2019. Remarkably she also won the sash for being the closest to the Optimum Time despite losing one stirrup half way round the Cross Country course. Thanks also to Catrin Owen- Weatherall for the use of her horse and supporting Katie at the Championships.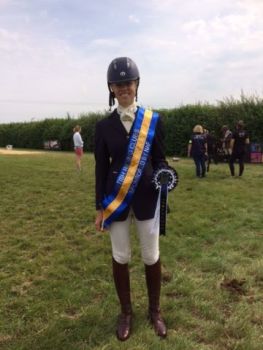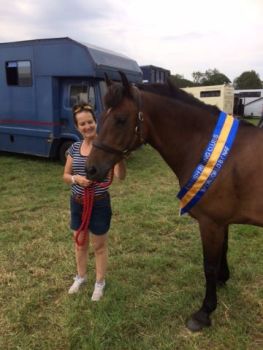 A new link has been added to the Links Page for a web site called 'TackTrunks'. This is an American company that sells many interesting horsey items and well worth a visit. It does export to countries outside the USA if you see something you want to buy.
A link has been added to the Links Page for a web site called 'matchyhorsey'. This gives guidance on how to present horses in Showing Classes.
PLEASE GO TO THE EVENTS PAGE FOR DETAILS OF WWRC COMPETITIONS AND AREA 21 QUALIFIERS AND TIMES FOR DRESSAGE COMPETITIONS.
TRAINING RALLIES
Training Rallies are held on Monday evenings at Moor Farm . Open to WWRC Members only. Sessions commence at 6pm at a cost of £15 per person. Please book with Shelley at least 48 hours in advance and use BACS or a cheque sent to our Treasurer to make payment (details for posting and payment are on membership Renewal Form). Training Sessions may also be held on Friday mornings from 1st October 2021
MEMBERSHIP
At BRC's request the the Club's 'year' now runs from 1st January each year. A reduced fee was charged for people joining before 30th September 2021 due to the effect of the Pandemic on Club activities. However, the Committee has decided that the Membership Fee should be increased to £30 per annum for all Riding Members while remaining at £5 per annum for non-riding with a £5 additional charge for those wanting information sent by post not by E-Mail. Anyone joining after 1st October 2021 must pay the increased fee but their membership will last until 31st December 2022. A Membership Renewal Form can be downloaded HERE.
PRIVACY POLICY
It is WWRC policy to restrict its use of the personal information members put on the Membership Application/Renewal Form to keep members informed of Competitions, Training, etc run by the Club and by Area 21. This information is also sent to BRC HQ so that they can use it for Insurance purposes, to keep members informed of BRC run activities and to send them the 'Rider' magazine. WWRC does not provide any personal information about its members to anyone else . For details of the BRC Privacy Policy please visit the BRC Website and open the 'Privacy' section. Further details about WWRC's Privacy Policy can be found here.

CONGRATULATIONS: to the Novice Show Jumping Team consisting of Kate Gillam (Lilly Langtree), Katie Mathias (Penty Parc Stormy), Lucy Jowett (Penty Parc Isidro) and Gemma Butcher (Denmor Roallan (Robo)) for winning the KBIS Senior Novice Show Jumping Winter National Championships 2016 held on Saturday 9th April 2016 at Keysoe, Bedford.
(It was Area 21's Day as Towy Valley's Novice Dressage Team came first in the KBIS Senior Novice Dressage Winter Championionships on the same day!)
Congratulations to our dressage and show jumping teams who went up to Hartpury to represent the club at the National Championships. The teams consisted of Jill Ridge, Catrin Owen, Kate Gillam and Louise Wheeler with Catrin's husband acting as Chef D'Equipe (despite his allergy to horses!). The Show Jumping team came a very commendable 9th overall and Catrin Owen came 10th individually in the dressage. Well done to all!